ore than just
a successful
it company
TapOK is an IT product company. We implement and develop our exclusive full-cycle products. We believe that the main value is people, and the greatest resource is constant development. We are sure that cool projects are created by purposeful people - people who realize their great potential and get pleasure from it.
Ready to look behind the TapOK's scenes?
Make one "tap" to us.
Our life
Convenient office
We want to make the office a real place of power - it's not just an office. Here we spend time with friends, talk, and relax. You can come here even after work and have a great evening. To create ideas, write code, and develop marketing strategies, we offer comfortable tables and ergonomic chairs. In the recreation area, you can always unload your brain, switch between tasks, or play table tennis.
Active lifestyle
Free workouts in the best city gym are available for all personnel. We welcome and support sport in all its varieties. We already have fans of running, CrossFit, swimming, single combat and tennis. What sport are you fond of?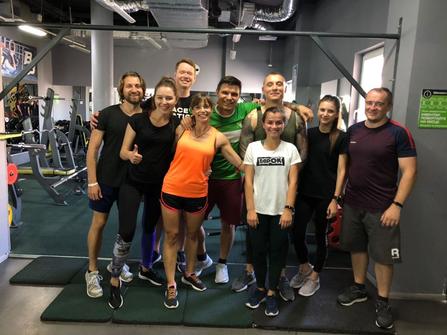 Music and drive
There is a music space in our office. You will find there a drum setup and a pair of electric guitars. With such a set and a team of like-minded people, it's hard not to start playing, or at least singing.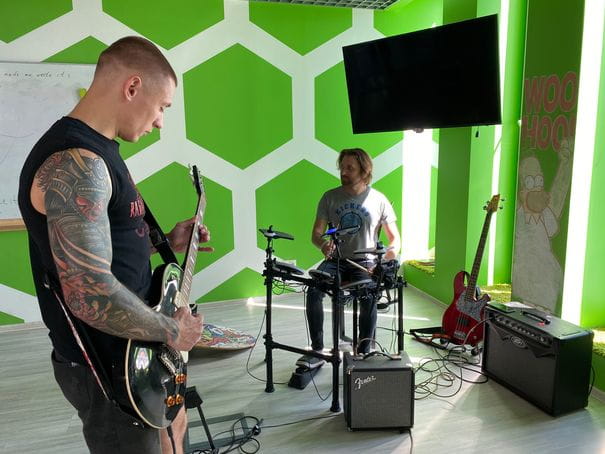 Corporate parties
We look forward to spending time together at every opportunity. We fill the corporate treasury with shared memories, new jokes and memes. We love emotional holidays, parties, trips and challenges. Huge events take place at least twice a year. We are inspired and rested, traveling to Ukraine and other countries!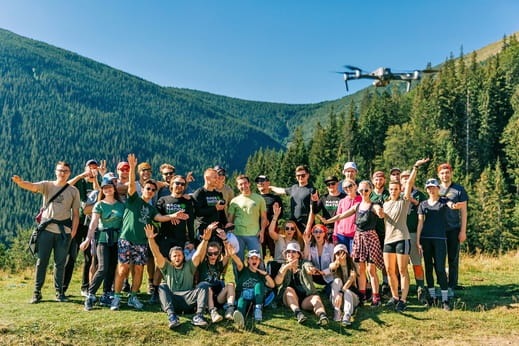 Development
We support the development and professional growth of our team. The principle "we are afraid that he/she will grow up and leave us" is definitely not about us. Our available resources include compensation of profile courses, external training and seminars. We also have a cool corporate library, knowledge sharing and in-house workshops.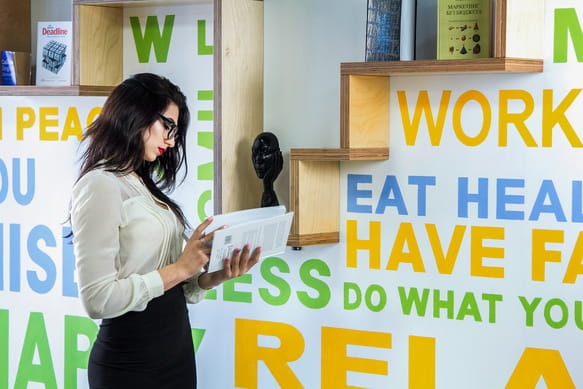 we
are your step
to the future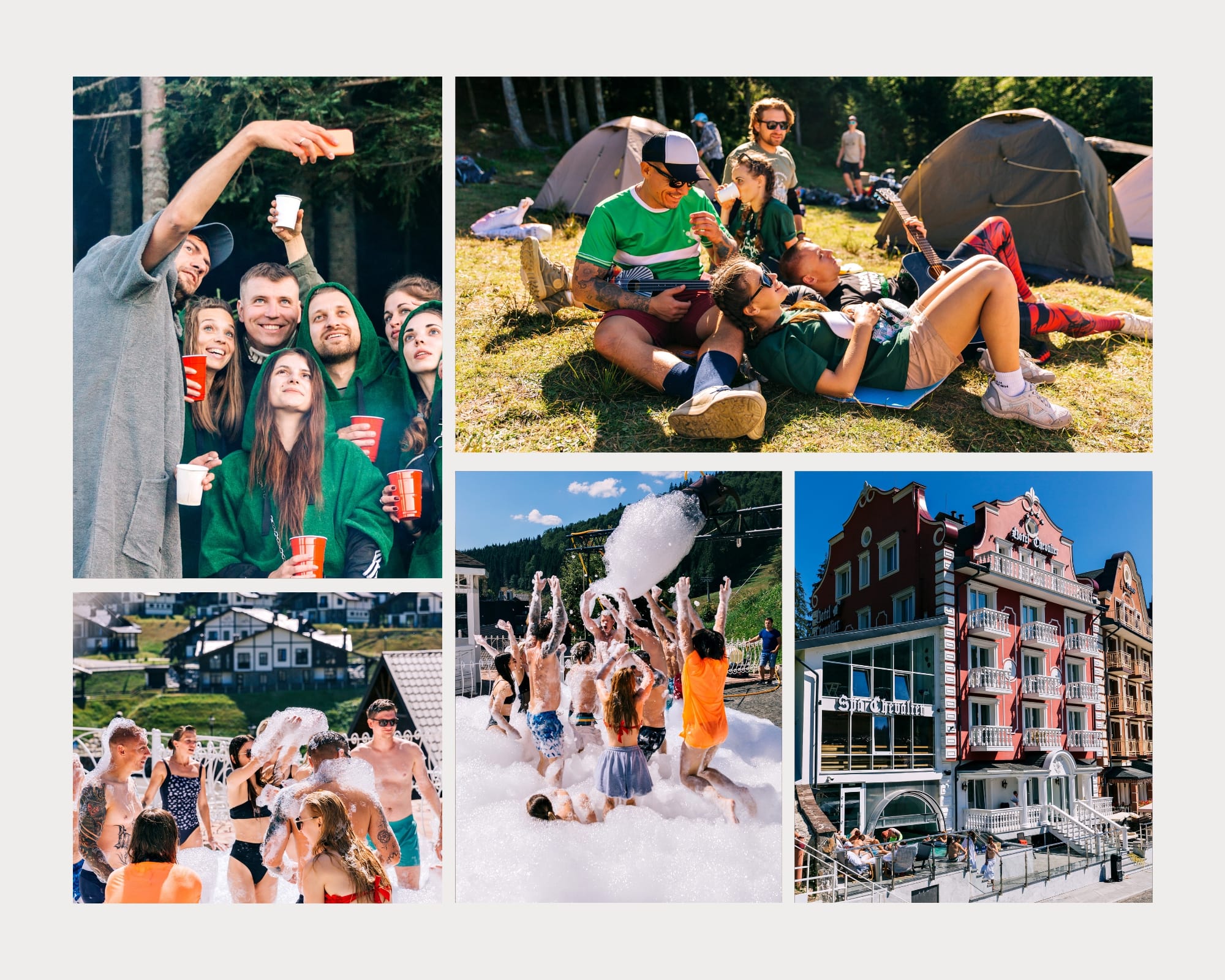 click to see full story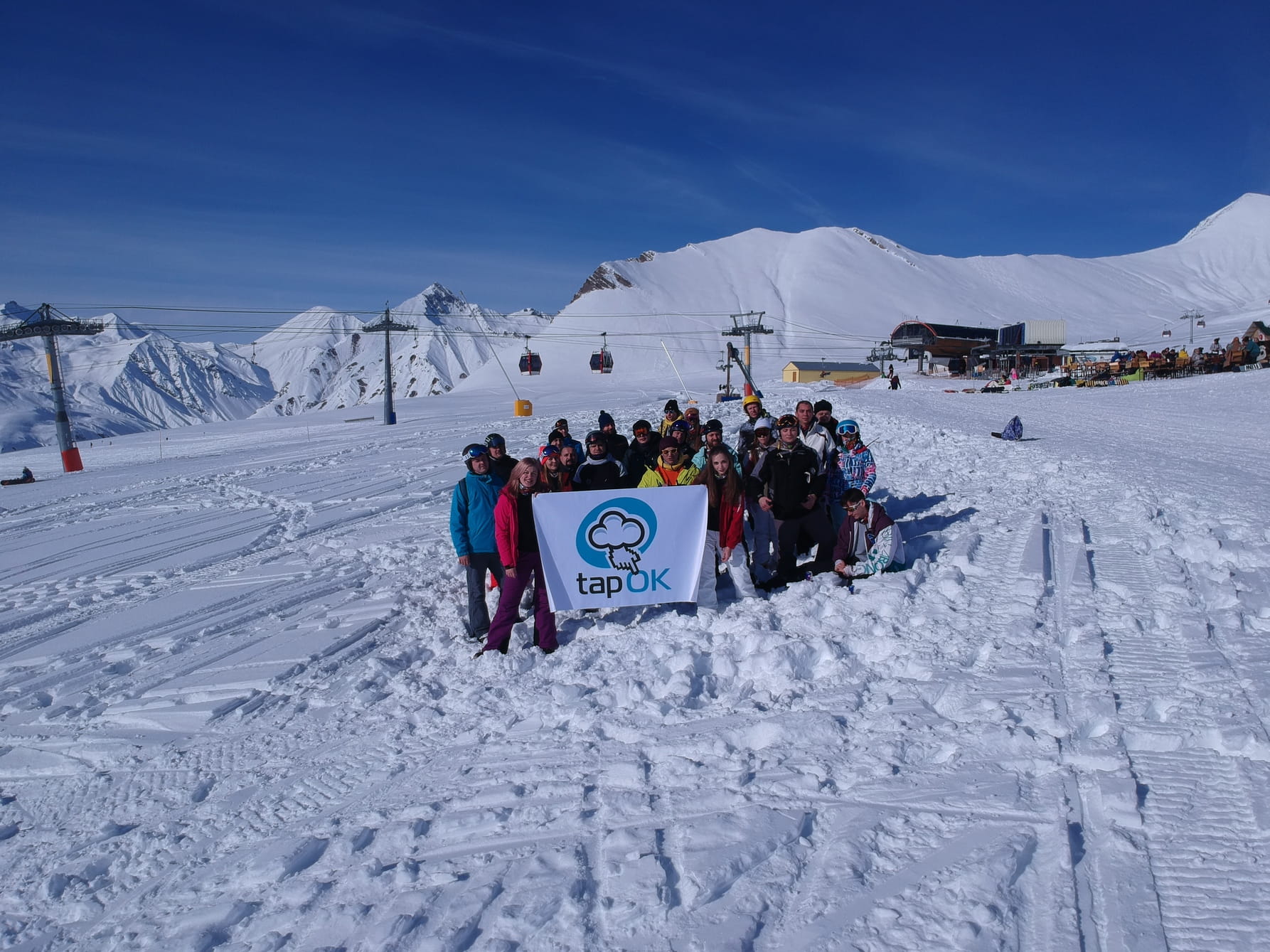 click to see full story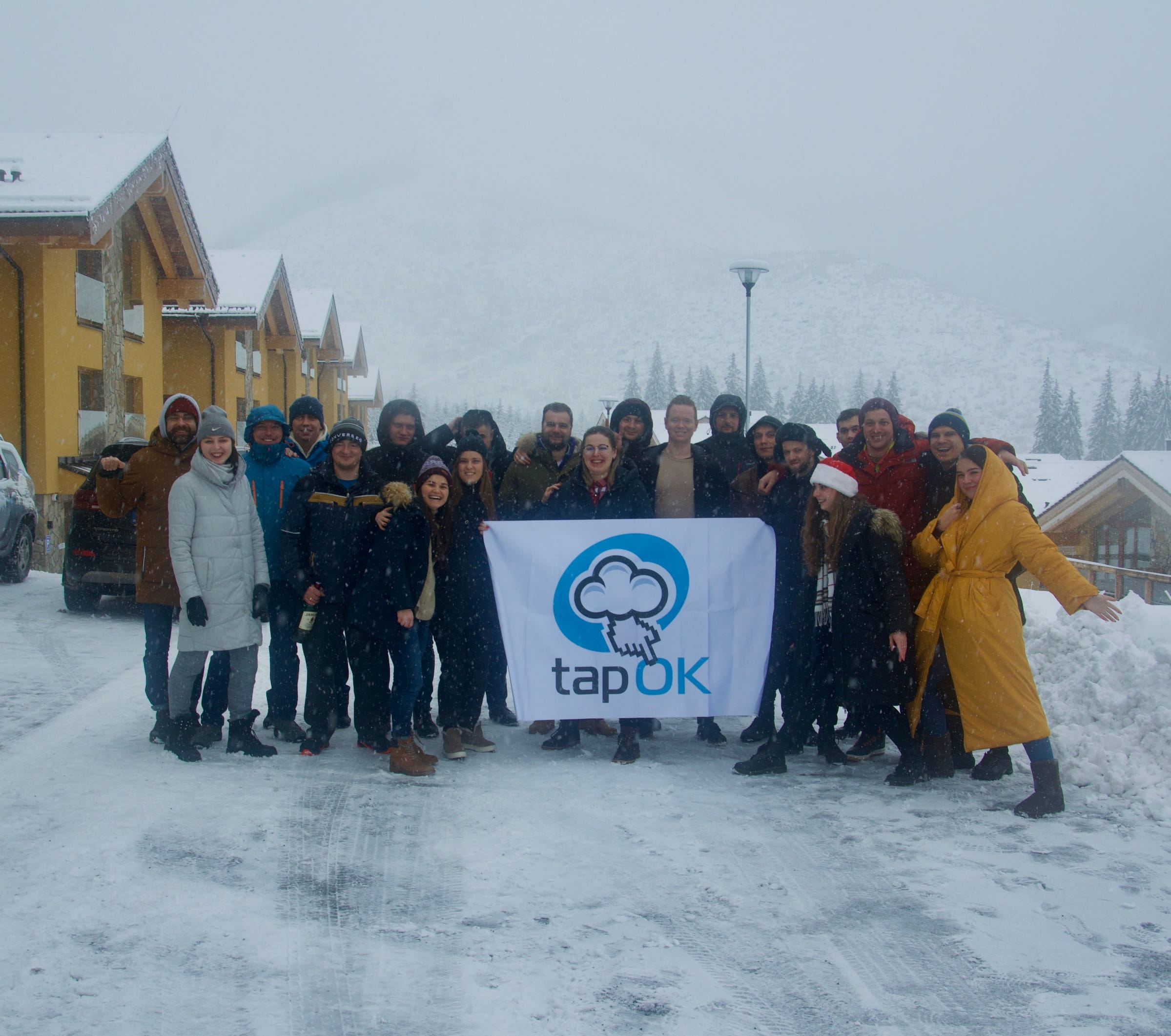 click to see full story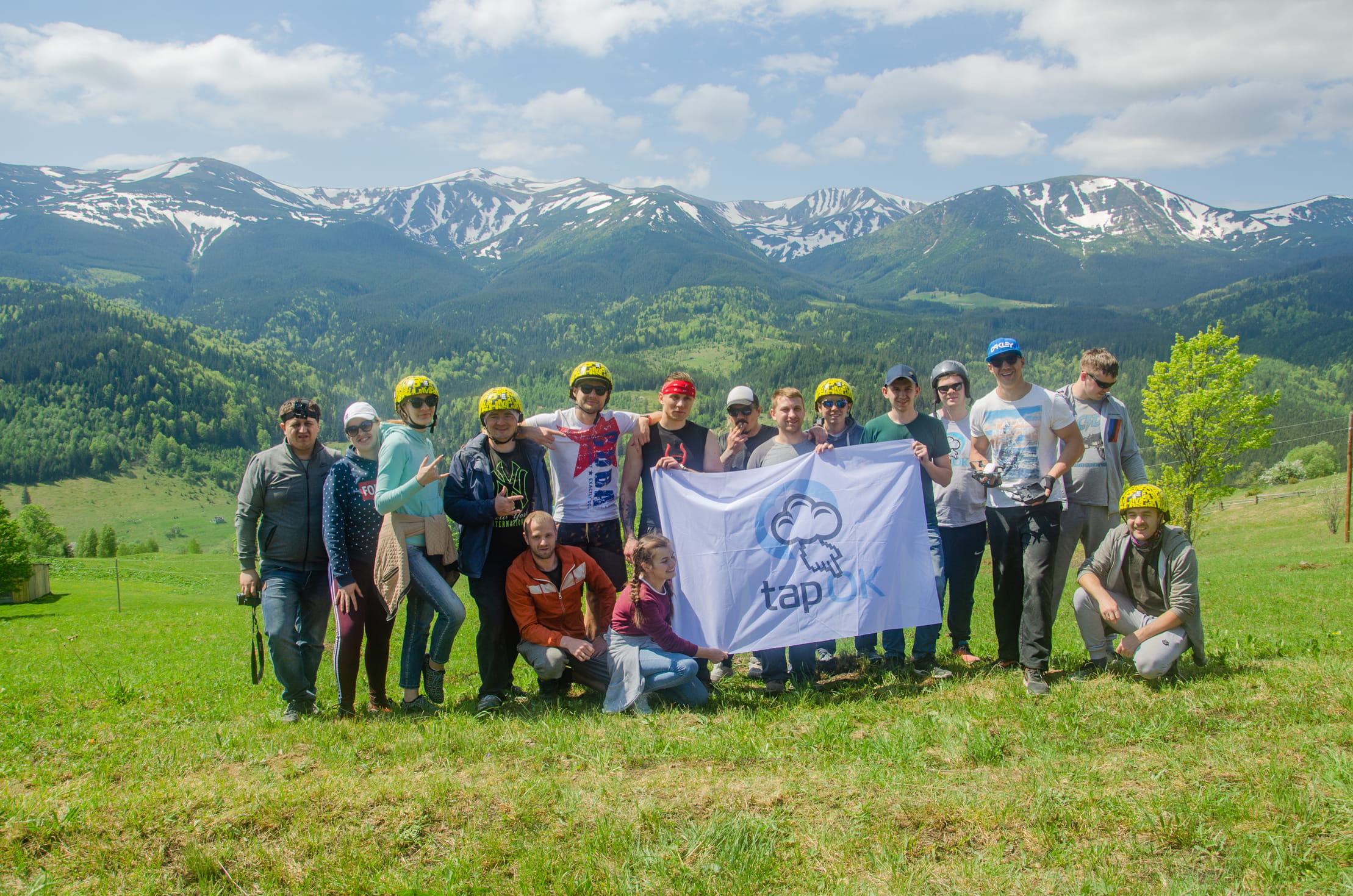 click to see full story
Bukovel
Georgia
Slovakia
Verkhovyna
Bukovel
2020 will go down in history. Just like this summer for our company. August 27, the journey to the Carpathians began.
The night trip to Verkhovyna and further ascent to the Smotrych mountain meadow was the starting point filled with excitement and joy. The camp setting was exhausting enough so dinner on the fire was near godlike. The time passed surprisingly quickly - an unforgettable starry night began. The night with endless hiking songs and warm hearts.
The second day greeted us with breakfast and divine coffee. Next point - hotel in the very center of Bukovel. Wet pool party, unrestrained dancing to the toe-tapping sets of our DJ Sergei, tequila, full moon through the telescope and talks until morning.
The last day's "agenda" was catchy: short rest at a foam party followed with a burst of adrenaline on ziplines and a dizzying downhill ride on a summer toboggan. Tired but happy, we took our ride home.
It will be difficult to overcome this journey, but we think that together we can do everything!
Summer 2020
Georgia
Acquaintance with Georgia began with the delay of the plane. So, we started learning Lezginka dancing just in the Boryspil airport terminal :)
Upon arrival, we had a delicious dinner in a Georgian restaurant and a fantastic walk through Tbilisi at night. The next day was Gudauri, with its snow-capped peaks and boarding and skiing. Beginners or pros, all of us left our hearts in those majestic Caucasus Mountains.
On the last day, we tasted local cuisine, chacha, wine, and danced the Lezginka (glad we studied!) in the mountain cafe Megobar. Our gala dinner in the restaurant ended with an incredible salute!
Winter 2018
Slovakia
In our journey happened a lot: 20 hours by bus, skiing and snowboarding in gloomy Tatras.
Next was Devil's Party" in kigurumi and ballet tutus, fun games, and driving music.
A bright end to the corporate party was a dinner on top of a mountain restaurant overlooking the Deman Valley. On the way back we managed to walk around the ancient city of Kosice on Christmas Eve. It was a perfect time to return home.
Winter 2019
Verkhovyna
Verkhovyna in the spring is not only beautiful but also extreme. We challenged two natural phenomena at once - the fast water of the Black Cheremosh, and the insidious peak of Pip Ivan mountain.
The Cheremosh River was the first to stand in our way. This was our first experience and not everyone was able to stay in their boats. But no one was been left in trouble in the water. In the end, Cheremosh obeyed and retreated under the pressure of our team spirit.
The next day was the climb to Pip Ivan, and this day could be called light, if not for the 5-hour climb. But we made it, and we are so proud of our victory. We overcame all challenges and difficulties.
Spring 2018
Bukovel
Georgia
Slovakia
Verkhovyna
Career
flexible schedule, ability to work remotely, focus on results and involvement
What do we offer
career growth, L&D, training, necessary literature
What do we offer
professional team, opportunity to share experience
What do we offer
corporate English lessons
What do we offer
payment pegged to the USD
What do we offer
compensation for spot activities
What do we offer
Marketing Manager (Affiliate Marketing)
Head of Affiliate Program
We are looking for a head of Affiliate Program with experience in setting up business processes and marketing strategy
Required skills:
at least four years of experience in affiliate marketing
at least two years of team management and leadership experience (description of business processes, rules and procedures for interaction, team synchronization)
deep understanding of the health & beauty niche
experience in expanding the partner base
brand promotion experience (PR)
knowledge of the main sources and specifics of different types of traffic and their effectiveness
knowledge of basic metrics (CPA, CTR, CPL, CPV, CPC, ROI, LTV)
advantage: a well-established database of webmasters, successful cases on brand promotion, experience in entering new markets (Asia, LATAM)
experience working with Jira, Confluence-will be a plus
Soft skills: strong leadership skills, independence, strong analytical skills, desire and ability to work in a team and for team results
English – Upper-Intermediate+
You will be in charge of:
develop and implement a strategy for developing the Partner Program and expanding the partner network
market analysis and search for promising segments for Partner Program Development (by offers/sources/partners)
search control, attracting new international advertisers, managing the current portfolio of affiliates, increasing loyalty and increasing sales, high-quality service control
identify top performers and develop incentive programs to reward key partners
analysis of traffic volume, search for ways to increase it
launching and scaling new destinations
launching of projects and marketing events with partners, development of cross-promotional activities
promotion of the Partner Program (Participation in exhibitions, presentations at conferences, seminars and webinars, articles and publications, etc.)
building analytics and a transparent reporting system to track the direction's performance
process automation and optimization
expanding, managing, training, motivating, and analyzing department performance
development, implementation and adjustment of motivation systems for the team
Business Process Optimization, task reallocation, and reporting
team training, accounting quality control
cross-functional interaction with other departments within the company to achieve common goals
What we offer:
flexible schedule, full remote, focus on results
a team of professionals, the opportunity to share experience
linking salary to USD
paid leave (20 working days) and sick leave days
corporate English
partial compensation for sports activities
Sales Director/Head of Sales (Call-center)
Junior-Middle Data Analyst
Brand manager (Marketing Manager)
modern,
positive,
ambitios
If you are a high-end professional looking for a job in the field, email us your CV and portfolio. We'll be glad to welcome you to our friendly team!